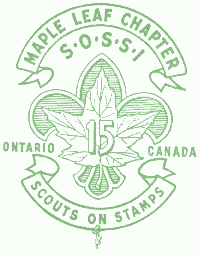 Our chapter had a great time at the Royal '98 Show held 29-31 May at the Hamilton Convention Centre, Ontario, Canada. Our chapter produced a special show cover, shown below.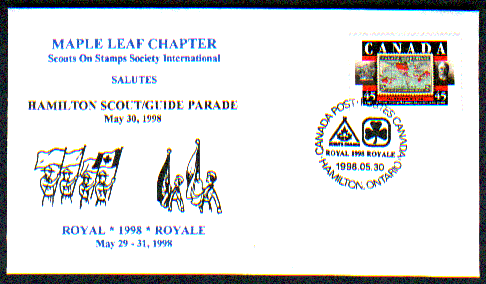 This event also honored the 60th Annual Hamilton Scout/Guide parade. The newspapers estimated 9,000 Scouts and Guides were on parade, with additional bands and floats participating. Many went to the local high school for a lunch and entertainment, but between 700-900 also came through the stamp show. Our Chapter gave away most of the 1,000 special wooden nickels as a free handout to the Scouts.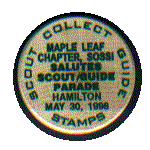 Canada Bank Note Co. produced a special show card that honored both Royal '98 and the Parade.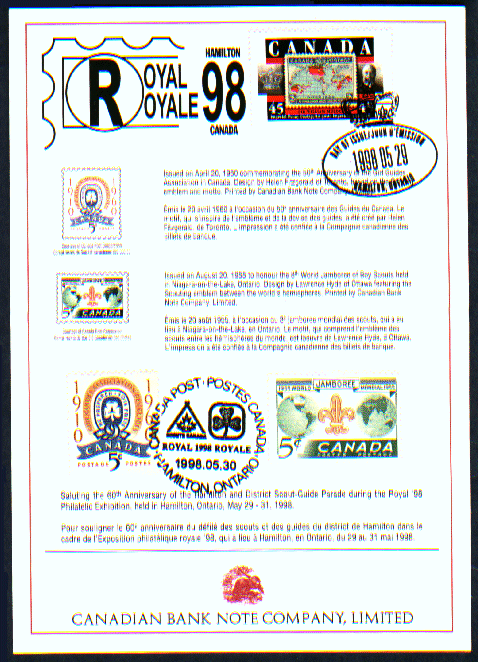 Reg Morris did a super job in his presentation at our Chapter meeting. T.P. McDermott was there from New York, plus a few other distant members. All in all, it was an excellent 3 days.
Further Info? - Contact Tony Manson via Email: