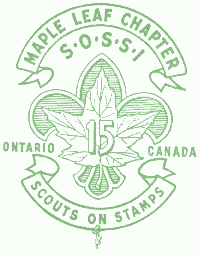 Our SOSSI Chapter has been in continuous and active operation since it was founded in April 1962. Our official territory is the Province of Ontario, but we have members from all across Canada who wish to maintain contact with other Canadians in this hobby of Scout and Guide philately.
We have 8 to 9 meetings per year - half in Toronto and the others in different cities in Southwestern Ontario. The meetings are usually held at 2 pm on the third Sunday of each month (except when it falls on a long weekend). Annual membership dues are $10. (Cdn) per year and all members receive out monthly newsletter (The Maple Leaf-Let) preceding each meeting.
As well as monthly meetings, our Chapter is very active in staffing booths with exhibits at stamp shows and scouting events, and in producing an average of one or two event covers (cachets) a year.
Past Maple Leaf Chapter Activities

• Royal '98 Stamp Show

Further Info? - Contact Tony Manson via Email: