During World War II, a German U-Boat torpedoed and sank the U.S.S. Dorchester, an Army transport ship, in the North Atlantic on February 3, 1943. The convoy SG-19 was positioned 150 miles from Cape Farewell, on the coast of Greenland. Of the 904 men aboard, 605 were lost, among them were four U.S. Army chaplains.
After the torpedo struck, the chaplains quickly and quietly spread out among the soldiers. They tried to calm the frightened, tend the wounded and guide the disoriented toward safety. When there were no more lifejackets in the storage room, the chaplains removed theirs and gave them to four frightened young men. As the boat sank, survivors recall seeing the four chaplains together with arms linked and hearing them pray together. Theirs was a selfless act of courage. Without thought to their differences, the four chaplains stood united as one.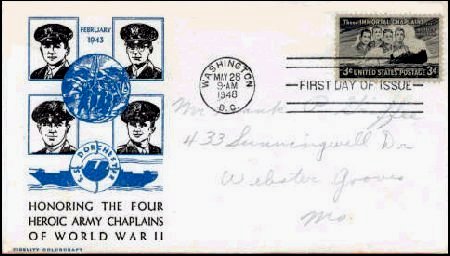 Research done after the incident chronicled the valor and sacrifices of these chaplains. They have became an enduring example of extraordinary faith, courage, and selflessness. The U.S. Congress in 1961 authorized a special medal of honor awarded to each chaplain's families. The Chapel of the Four Chaplains was dedicated at Valley Forge in their memory. The U.S. issued a postage stamp five years after the sinking to honor their bravery.
Three of the four chaplains had been active in their home communities before World War II by serving as important role models to youth as Scout leaders. Here are the specifics:

Lt. Rabbi Alexander David Goode, Jewish, Scout leader, York PA


Lt. Clark V. Poling, Dutch Reformed minister, Scout leader, Hillsboro County, NH


Lt. Father John P. Washington, Catholic, Scout leader, Elizabeth, NJ


Lt. George L. Fox, Methodist minister


The memory of these men is preserved during Four Chaplains Memorial Services in communities across the United States on or near the anniversary of the sinking of the U.S.S. Dorchester (February 3) to raise awareness of the need for cooperation among all people.