Several years ago, stimulated by an article in SOSSI Journal, I began a new philatelic adventure; the search for stamps honoring Saint George, Patron Saint of Scouting.
I had, by this time, almost completed my collection of Scouts on Stamps. Apart from some of the rarer imperforates and souvenir sheets, my Scouts on Stamps argosy was nearly ended. I maintained my status quo by merely acquiring the current issues and added to the rarities via the auction route.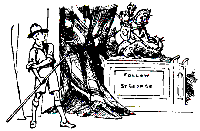 Prepared and alert a Scout follows the lead
Of our Patron Saint George and his spirited steed.
Drawn by Baden-Powell

Lord Robert Baden-Powell in "Scouting for Boys," titled one of his campfire yarns "Chivalry." He wrote of King Author and his Knights of the Round Table,
They had as their Patron Saint, Saint George, because he was the only one of all the Saints who was a horseman, he is the Patron Saint of Cavalry and a special saint of England. He is also the Patron Saint of Boy Scouts everywhere. Therefore, all Scouts should know his story.
Baden-Powell also illustrated, pointedly, the parallel between Scouting ideals and the Saint George legend.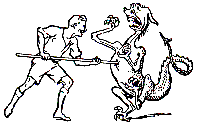 With character and a smile
the boy will overcome evils on his way.
Drawn by Baden-Powell

There are many stamps honoring Saint George. Among these are stamps showing related items bearing his name. Although I have them, being a purist, I display only those representing him in the act of dragon slaying.
---
SOSSI Journal, Volume 20, Number 12, December 1971