Kaulbach Island is an Island off the coast of Nova Scotia situated in Lunnenburg Country, south of Halifax. It is spelled Kaulack on some maps. It was originally known as Heisler's Island after the the lighthouse keeper James Heisler. Scouts from all parts of North America have visited Kaulbach Island over the years to roam through the meadows and explore the artifacts left by early settlers.
From 1971 to 1984, local postal labels were issued by the Kaulbach Island Local Carriage Service on mail that was transported to and from the island to the mainland. Canada Post approved the service provided that the local stamps were affixed to the back of envelopes, which had Canadian postage stamps on the front for entry into the Canadian postal system.
The island's owners, an American couple, were authorized to issue local stamps to prepay the cost of carriage service that operated between Kaulbach Island and Chester, Nova Scotia, including an irregular service to the town of Mahone Bay. The bottom of each sheet of Kaulbach Island stamps contains the following instruction:
Not valid for the carriage of mail by the Canada Post Office. To be used only in the Kaulbach Island Local Carriage Service and may be placed only on the back of envelopes. Use Canadian postal stamps on all mail for posting in Canada.
The stamps promote Canada as well as Nova Scotia's South Shore Lighthouse Route. First day cover cancellations were all made on the back of envelopes and featured the words "KAULBACH ISLAND/N.S." in an outer circle, with "L.C.S." (for Local Carriage Service) in an inner circle. To the right of the circles are the words "FIRST DAY OF ISSUE" in a four line killer cancel.
The Kaulbach Island Local Carriage Service ceased operations in 1984 when the island was closed to tourists due to concerns about the increasing damage to the island's ecology.
---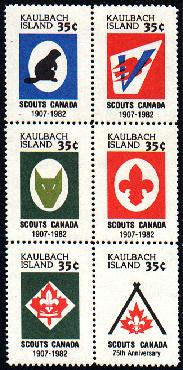 ---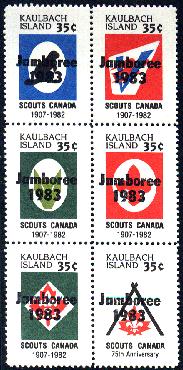 Commemorating the 75th anniversary of the founding of the Scouting movement in Canada, this set of six stamps features the emblems of the Beaver, Wolf Cub, Venturer, Rover, Scout Promise, and Scouts Canada itself. The same issue was used in 1983 to honour Canada's hosting of the World Jamboree by means of an overprint "JAMBOREE/1983." The sets were issued in sheets of 6 x 3, lithographed in four colours, and line perforated 11.5.
---

The Stamps of Kaulbach Island,
Royal Philatelic Society of Canada.
SOSSI Journal, Volume 44, Number 4, July-August 1995.