During the war of independence of East Pakistan from Pakistan in April 1971, young boys of the Bangladesh Boy Scout Association volunteered to carry the mail from the Bangladesh Mukti Fouz (Liberation Army) field post offices. The field offices were Basantapur, Kaliganj, and Paikgacha in the Khulna District on the Khhanati River.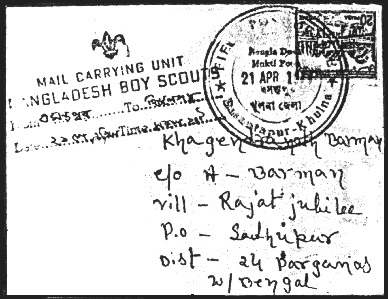 A special cachet was given on each mail as "MAIL CARRYING UNIT, BANGLADESH BOY SCOUTS" with spaces for "From", "To", and date and time. The letters addressed to India were carried by the Boy Scouts and handed over to the nearest Indian Post Office at Hangalganj on the bank of the Ichhamati River. This mail service continued until the end of hostilities.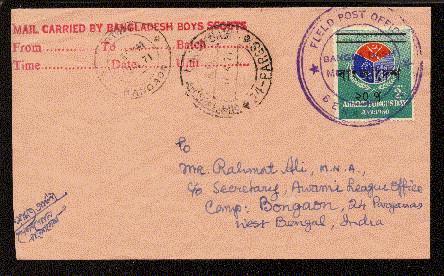 This Boy Scout Cover has a Pakistan stamp overprinted "BANGLADESH 20P" postmarked "Field Post Office Benapole Bangladesh Mukti Fouz." The red cachet shows the mail was carried by a Bangladesh Boy Scout with Indian transit and delivery strikes.
Some forgeries are known. The following two covers which you can view up close are suspected fabrications because of the late use dates eight months after the war and use of Pakistan stamps not overprinted. They were offered for sale at an online auction.
---
SOSSI Journal, Volume 21, Number 6, June 1972.
SOSSI Journal, Volume 29, Number 7-8, July-August 1980.