Ukrainian PLAST [Scouting] was founded in 1911 in Lviv, Ukraine, by Dr. O. Tysovsky. The first victim of the menace of Communism in Ukraine was Ukrainian Scouting, which was expelled and survived in exile. For a detailed history of the Ukrainian Scout Movement [PLAST], I suggest you read Plast: Yesterday, Today, and Tomorrow by Lewis P. Orans.
---
Complete sheet of 32 different stamps in one sheet depicting symbols of different Ukraine Scout groups around the world.
---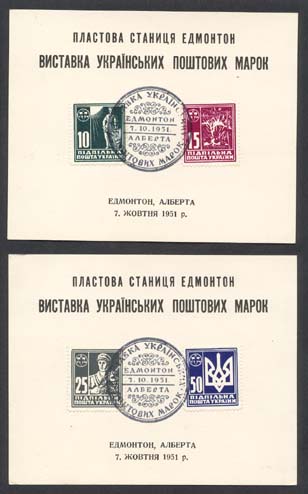 Colonel Oleg I. Pantuhoff
Complete set of 1949 Ukrainian Underground organization stamps tied to two cards, with commemorative text and cancellation for the Ukraine Scout meeting on July 7, 1951 in Edmonton, Canada.
---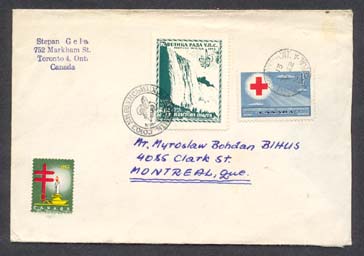 Cover bearing a Ukraine Scout stamp issued to commemorate the Fourth World Congress of Ukrainian Scouting organization Aug. 30- Sept. 1, 1952 in Toronto Canada.
---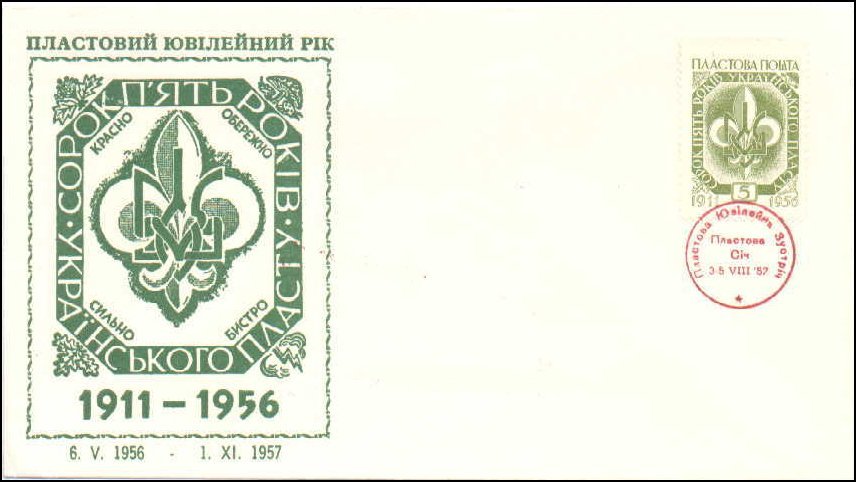 This cover from Canada honors the 45th anniversary of Ukrainian Boy Scouts in 1956. Cover is franked by a special cinderella label honoring the 45th anniversary of Ukrainian Boy Scouts, which is tied to the cover by a special private cancel dated August 3-5, 1957.
---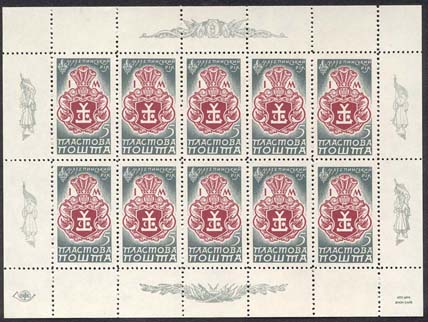 Complete sheet with 10 copies of Scout stamp issued at New York in 1959 commemorating Hetman Mazepa.
---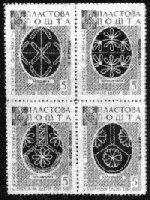 Multicolored sheet of 45 different Easter seals with the famous Ukrainian decorated Easter eggs. Issued by PLAST in Toronto, Canada.
---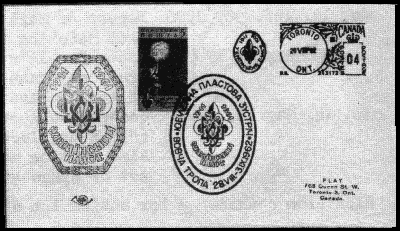 The Jubilee PLAST Jamboree was held August 28-September 3, 1962 at PLAST camp "Vovcha Tropa" (Wolf's Trai) in East Chatham, New York. A block of four commemorative labels were issued.
Upper Left - Dr. O. Tyowsky, founder of PLAST
Upper Right - Prof. S. Levistzky, former Chief PLAST
Lower Left - Golden Jubilee PLAST Badge
Lower Right - Copy of first PLAST camp post stamp 1927
All four labels include the wording "PLAST Post.5". The adhesives were designed by J. Hnizdowsky. Issued in sheets of 8 blocks and in a souvenir block of four. There were also four maximum cards of these labels and cacheted covers like above.
---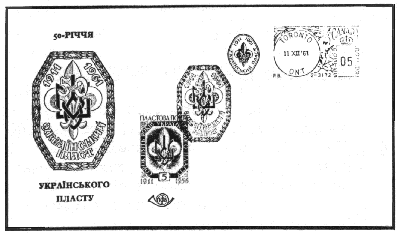 The PLAST groups in Toronto, Canada sponsored this cacheted cover with the label "50th Anniversary of Ukrianian PLAST" franked with a special meter slogan. All proceeds benefited PLAST work.
---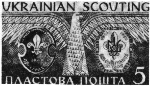 This commemorative label was issued by PLAST to mark the World Jamboree being held at Marathon, Greece. Printed in sheets of 32. Cacheted covers cancelled with a commemorative hand stamp and mailed from Toronto, Canada and St. George folders similarly cancelled exist. Proceeds went to the PLAST "Let's go to Marathon!" fund.
The background of this label consists of a "Wall of Peace" constructed by the nations of the Free World. A mighty, winged eagle, representative of the World Scout Movement, harbors under its right wing the Scout Organizations participating in the Jamboree, symbolized by the Jamboree badge, a Greek shield. The PLAST badge is under the right wing. The striking eagle which dominates the whole design indicates with its determined eastward gaze its readiness to protect the Scouting's ideals and principles against the attacks of the Communist East.
---
SOSSI Journal Volume 11, Number 1, January 1962
SOSSI Journal Volume 11, Number 4, April 1962
SOSSI Journal Volume 11, Number 11, November 1962
SOSSI Journal Volume 12, Number 7-8, July-August 1963