In 1971 Montserrat made some inquiries into producing a Scout airletter and postal card. The agency doing the work presented proofs as well as an already printed quantity of the proposed final designs...a blue airletter and an orange postal card.
Although never issued, these have always been popular with Scout collectors. The agency's contract was cancelled or they were never paid (details are sketchy) so they released the postal stationery to try and recoup their investment. That agent has since passed away several years ago and at the time of his death, he had long before that sold off all the material.
On the postal cards, in addition to the standard orange card that was to be issued, there are many varieties of different colors and specimen overprints on same that are referred to as proofs. Recently found was an item with no record of existing...a light yellow proof postal card MISSING everything but the indicia!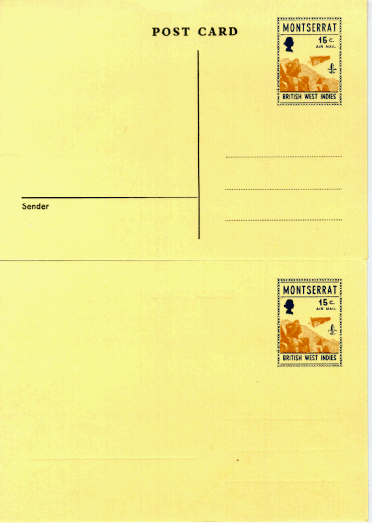 So, no POST CARD at the top, nor the lines for addressing and so forth. This card DID go through the press for that black printing as there is an ALBINO printing of the lines and POST CARD...but no ink! On the scan you can just pick out the impression the press left of the lines.
---
Created by Keith Larson