Deltiology, or the hobby of post card collecting for Scout topical collectors was greatly enhanced with the recent publication on CD-ROM of A Guide to Boy Scout Postcards in the United States by SOSSI member Stanley H. Lipson. The author successfully blends his fifty-year background in Scouting with his knowledge of postcards and postcard collecting, and his academic expertise in computer science.
Stanley boldly chose to publish on CD-ROM because of the cost that would have been required to print the more than 700 full color illustrations. A Guide... also lists more than 900 postcards relating to the Scouting movement. With the exception of three postcards, all of the images shown belong to the author's private collection.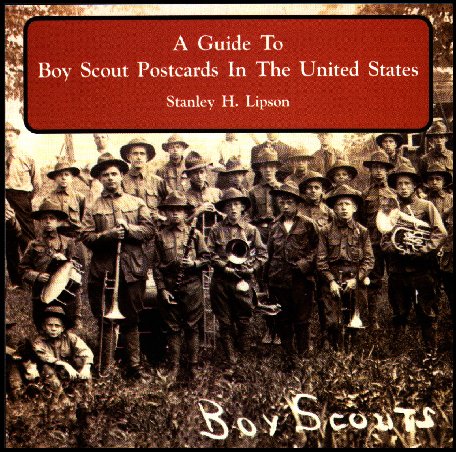 A Guide... includes a helpful glossary of terms, a primer on postcard design and printing techniques, and a standard guide to grading and pricing postcards. Also included are instructions that describe the various methods one can navigate, and an extended description of the contents of the disk. This introduction is a must-read section that serves as necessary reference for both old and new collectors.
TABLE OF CONTENTS See CD-ROM Page
1. Introduction
2. The Founders of the Scouting Movement
3. Official Boy Scouts of America Postcards
4. Privately Printed Cards
5. Council and Locally Issued Cards
6. Jamborees
7. Topics
8. Artist Signed Postcards
9. Photographic Post Cards

Stanley's original intention was to produce checklists of Boy Scout postcards produced during the quarter century 1910-1935, not only by the Boy Scouts of America, but by private organizations and companies as well. All but a very small number were originally published and sold in the United States.
Two sections are outside of this timeframe: Jamborees and National Camps. The Jamboree section contains more than 50 cards from National B.S.A. Jamborees plus a selection of cards from World Jamborees and other events. National Camps include Philmont and Schiff. Topics include an arrangement of all content by 45 categories ranging from Advertising and Animals to Transportation and Trucks.
No special software other than an Internet web browser such as Internet Explorer or Netscape Navigator is required to view the CD-ROM. The pages were designed to be viewable on a 17-inch monitor, but smaller monitors set to higher resolution can view all pages at the compromise of smaller images and text. A standard page design used throughout offers links that support rapid navigation to primary sections and related topics. [See example page] Printing out copies of the index page and the history for each series will provide portable checklists and background information for those who wish it.
I recommend viewing A Guide to Boy Scout Postcards in the United States for both its valuable compilation of early U.S. Scouting postal history and the hours of viewing enjoyable Scout postcard images. Stanley has successfully blended the capabilities of the computer with the hobby of postcard collecting.
---
SOSSI Journal, Volume 49, Number 3, May-June 2000