DOMFIL has issued this spring a first edition bilingual catalogue (Spanish-English) of Scout stamps and other youth issues. DOMFIL, founded in 1971 in the city of Sabadell de Barcelona (Spain), is a philatelic publisher specializing in thematic publications and album pages.
SCOUTS and OTHERS... includes almost all of the stamps of the world related to the theme of Scouts and other youth movements, classified by countries and by years, with the DOMFIL numerical system and those of the most prestigious catalogues in the world (Yvert et Tellier, Michel, Scott and Unificato).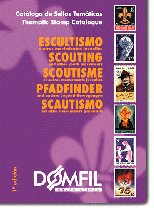 This 600-page catalogue contains 1,744 sets consisting of 6,976 stamps of Scouts and other youth movements (Pioneers, YMCA, Campfire, Boys Brigade) with all photos in color. More than 4,000 images will illustrate Scouts. A current market value for each issue is included.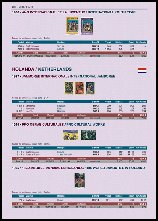 With the absence of updates to the Scouts on Stamps of the World (SOSOW) since 1985, SCOUTS and OTHERS... will provide a valuable aid to collectors seeking photographs to assist in identifying Scout issues. The catalogue cross-references and market value references will also greatly aid collectors and stamp dealers in many countries. DOMFIL has also issued this catalogue in CD-ROM format. You'll be able to see all the sets issued ordered by country and to view the stamp pictures on your computer.
The first and only edition of this book was published in 2000. Domfil, then owned by Afinza became part of Phildom Philately.