Romania held their Third National Jamboree in 1934 at Mamaia, near Constanza. They overprinted the 1932 set of six stamps with the wording "MAMAIA/1934" to form a different Scout issue (Scott #B44-49) for the Jamboree. The surcharge assisted in funding the Jamboree. A total of 50,000 sets were issued. Pictured here is the set of stamps.

Two stamps of this set (#B44 and B46) have been discovered with overprints in the normal black color, but inverted. It is probable that they came from the King Carol collection and are extremely rare.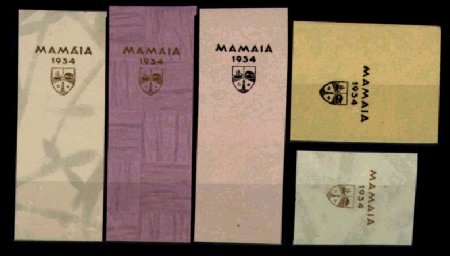 Five Romanian proofs of the overprint for Mamaia Jamboree from 1934. The three gold overprints were applied on distinct watermarked kinds of paper, while the two black overprints were applied on unwatermarked papers of different colors.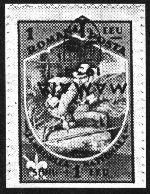 ---
SOSSI JOURNAL, Volume 46, Number 3, May/June 1997