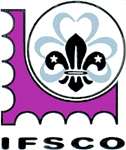 The EuroScout 2000 Philatelic Exhibition held on September 23, 2000 in Comacchio, Italy was the site of the founding of the
International Federation of Scout and Guide Stamp Collecting Organizations (IFSCO)
. The first presidency was assumed by the Associazione Italiana di Scout Filatelia (AISF). The purpose of IFSCO is to provide a unified front in dealing with the World Scouting Bureau, international philatelic organizations, promoting international Scout stamp exhibitions, and participation in World Scouting events.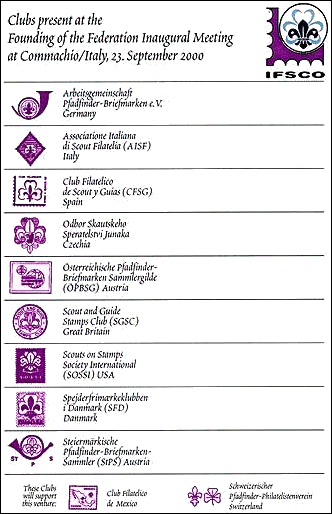 SOSSI is a charter member of IFSCO. We hope this affiliation will help improve coordination among the
world-wide Scout/Guide collector clubs
and help promote Scout stamp collecting.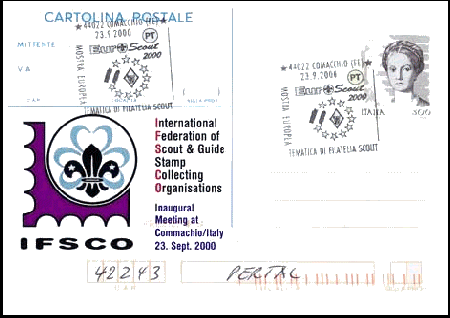 First IFSCO Philatelic Item - Postcard
The card can be ordered from:
Helmut Fritsch
Schulstraße 22
D-85604 Zorneding
Germany
The costs are DM 4,- plus shipping (europe: DM 1,10 - overseas DM 4,-)
Pre-payment to:
Postbank München
BLZ: 70010080
Konto: 563 97-801