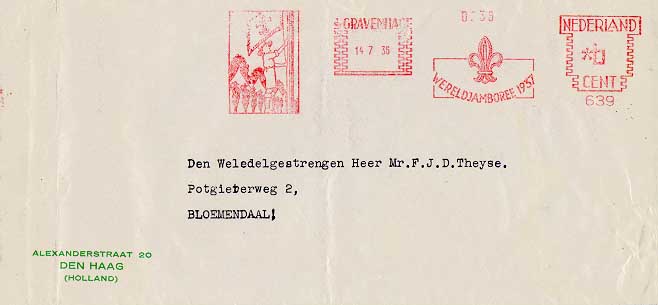 Scouting philately received another burst of life as Holland's World Jamboree continued most of the philatelic firsts from the 1933 Jamboree and reestablished the use of the advertising meter used in London for the 1929 World Jamboree at Birkenhead, England. The World Jamboree philately includes:
Advertising meter
Set of 3 stamps
Jamboree cancelers (4 different)
Jamboree registration labels (2 varieties)
And this cover shows how it started. Prior to the Jamboree, the National Headquarters of the Netherlands Boy Scouts Association used a special postage meter with Jamboree publicity on all outgoing mail. Six cents paid the domestic letter rate from 'sGravenhage.
---

© SOSSI
E-Mail to