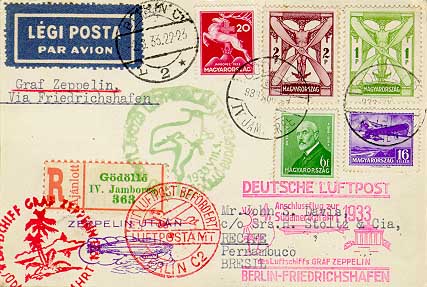 In two weeks, Scouting philately changed significantly. The list of World Jamboree firsts:
1st to be commemorated with a philatelic issue - a set of 5 stamps
1st to use jamboree cancelers (13 different)
1st to prepare jamboree registration labels
1st with Scout Air Mail Service and associated cachets
And this cover presents all of these firsts. The Gödöllö to Budapest Connecting Air Service was initiated on August 1. After being flown to Mátyásföld, this registered card flew to Berlin then to Friedrichshafen, Germany where it boarded the Graf Zeppelin 4th South American Flight to Pernambuco, Brazil (Sieger 223). Handstamped "Zeppelin Utján" (By way of Zeppelin). This is the only piece of Jamboree mail known to have traveled by Zeppelin.
---

© SOSSI
E-Mail to